It's officially Fall and temperatures are dropping rapidly here in Iowa, which means all things warm and cozy are on the menu at my house. This simple, yet super tasty, chicken soup recipe will warm up those cold toes from the inside out!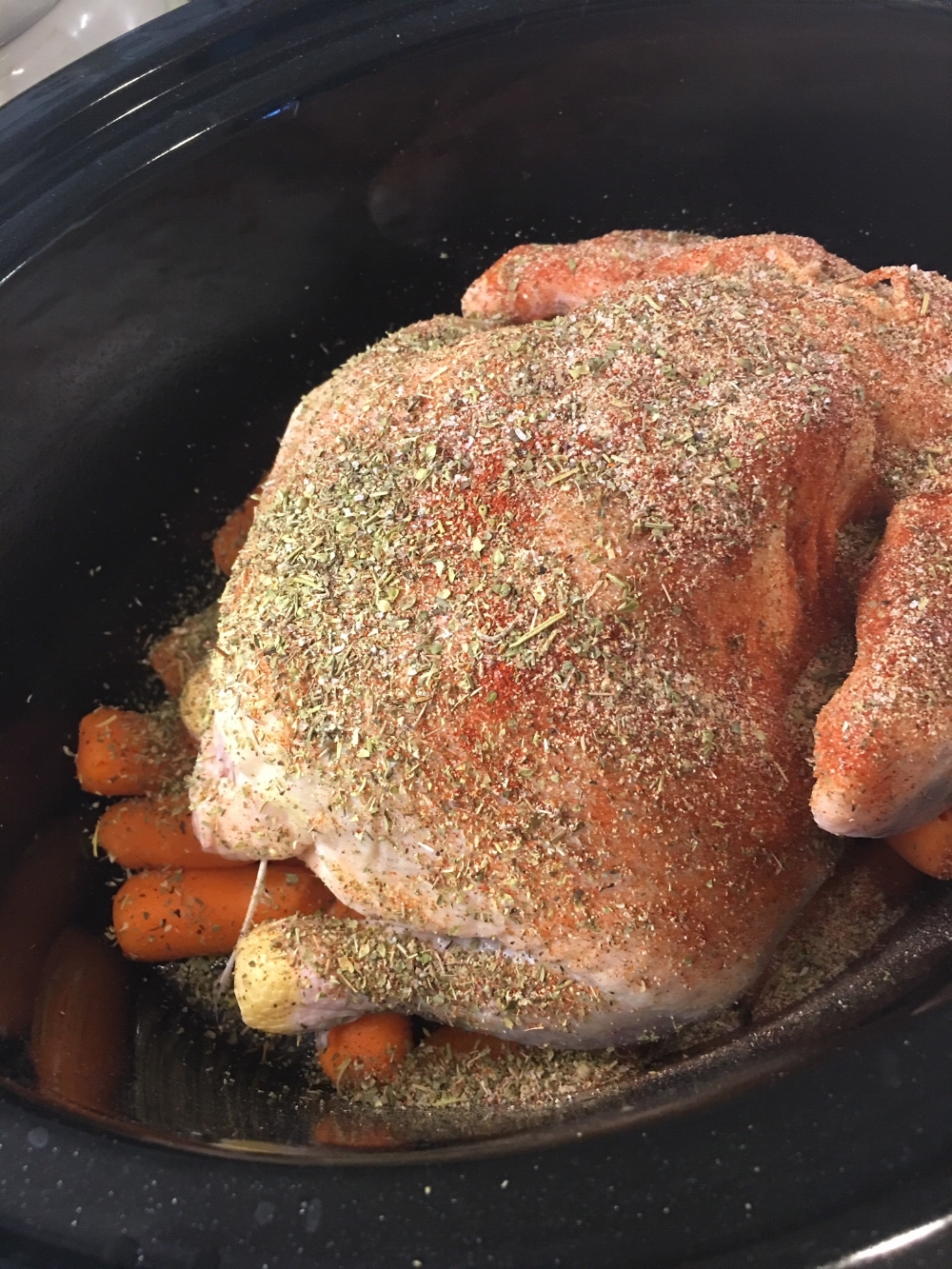 The most important ingredient, and easily made in the crock pot!
Directions: Lightly spray a large crock pot with non stick spray. Rinse and pat dry a fresh whole chicken (insides removed) and place it in the crock pot on top of a bag of carrots (if you don't want carrots in your soup you can use balls of foil to keep the chicken up off of the bottom). In a bowl, mix together the following seasonings and sprinkle over the entire chicken:
1/2 TB Paprika
2 TB All purpose seasoning
1/2 TB Garlic powder
1 tsp sea salt
1/2 tsp fresh ground black pepper
Cook on HIGH for 4-4.5 hours and use a thermometer to make sure it has reached 165+ degrees
The Soup
You will need:
1/2 cup chopped onion
1/2 cup chopped celery
1 tablespoon butter
2 32oz cartons of low sodium chicken broth
1/2 32oz carton of vegetable broth
2 cups extra wide egg noodles (roughly half of a bag)
1/2 teaspoon dried basil
1/2 teaspoon dried oregano
Sea salt and fresh ground pepper to taste
Directions:
In a large pot over medium heat cook the onion, celery, and butter until tender or about 5 minutes

Pour in the chicken and vegetable broths, basil and oregano

Pull apart the chicken from the crockpot, skin and all, and add the pieces to soup mixture. Season with salt and pepper.

Cut up the carrots from the crockpot and add to the soup mix

Bring to a boil and then reduce heat and simmer for 10 minutes

Add egg noodles and continue to simmer for 10 additional minutes or until noodles are done, careful not to overcook them! Check taste and add salt and pepper again if needed.